Proznak v.s.p. company was found in 1989.
All the while we successfully carry business in branch of road marking. The first embranchment was found in Brno (1992), than in Ostrava (1995), Kladno and Pribram (1996), Trebic (1999) and in Breclav (2001). The company was transformed in 2005 to the limited corporation PROZNAK Praha s.r.o.

We've brought a lot of novelties in road marking, which made the roads and highways in the Czech Republic more safer, e.g. sequential warning lights and their utilization in towns, curbs Klemmfix, self-adhesive horizontal traffic signs, 30 inches heigh traffic cones, plastic road barriers for easy traffic separation at exceedingly dangerous points and at least the wire rope safety fences.

At present we offer wide assortment of services for solution methods of traffic restriction, temporary and permanent signs and other related services:

• sale of traffic signs
• leasing of traffic signs
• leasing and installation of traffic signs
• service combined with installation of temporary and permanent traffic signs
• installation of deceleration tresholds
• installation of traffic equipment serving for construction enclosure and their separation from
communications, city-blocks, delta-blocks
• installation and sale of decorative columns and parking barriers
• installation and sale of traffic mirrors
• installation of wire rope safety fences, including counselling
• designing
• counselling and schematic solutions of traffic restriction
• permanent and temporary traffic solutions and permanent roads marking
• expert advice
• implementation of the "safe road"
• professional assistance in new traffic rules implementing

All products and equipments used by company Proznak v.s.p. are liable to rigorous legal enactments and rules valid in Czech Republic. Materials are approved for employment in traffic operations by Ministry of Transport of the Czech Republic.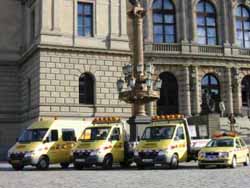 Our company dispose of own technical equipment such as trucks, fork-lift truck, arrow lights, machines for horizontal signs making, dispatcher cars. Our machine holding also includes special build machine Bobcat, hammer drills, generators, pressure washers Kärcher and a lot of cordless tools.

Contact with customers is supported by continuous operating dispatcher workplace equipped with professional radio system Motorola and mobile cellular telephones.